On October 12, 2014, Chris Edwards and Kelly Edwards were featured in a news piece by WRAL that showcases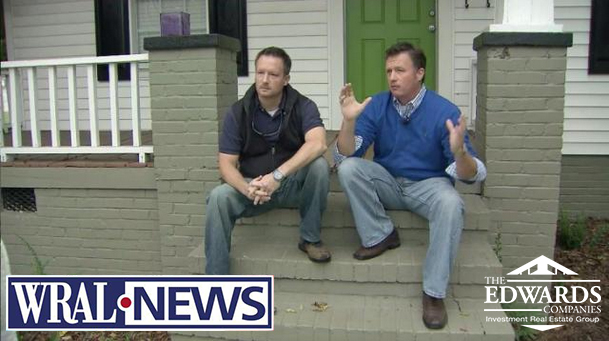 how the Edwards brothers are becoming key players in the revitalization of many neighborhoods in the Downtown Raleigh area and inside the beltline.
The content below is a transcript published on WRAL.com.

A neglected section of downtown Raleigh is getting a makeover, thanks to a pair of savvy investors.
Twin brothers Chris and Kelly Edwards have made a business out of overhauling old homes and then renting them as an investment.
They've bought 20 homes so far this year – many of them southeast of downtown and in disrepair. The brothers see opportunity where others see despair.
"More folks come down to downtown raleigh with Citrix, Red Hat, more jobs downtown, nicer restaurants ... people want to live down here," said Kelly Edwards.
The brothers want to get in before the prices climb so they can see the profit.
"When a home hits the market then every investor in Raleigh is on that house," Chris Edwards said. "It's almost too late by that point."
The Edwards offered the example of a home that sold for $65,000. After renovations, it is on the market for more than $200,000.
Jackie Carter and her two children live in the neighborhood. She pays $500 a month in rent. Renovated homes rent for more than double that amount.
"It will make prices go up for those already living in the area. That's the only worry," she said, but I think it's a beautiful thing."
Mary Baker has owned a home in southeast Raleigh for 50 years. She has watched the neighborhood go downhill and says living there scares her.
She says she's glad investors like the Edwards brothers are trying to turn the area around.
www.TheEdwardsCompanies.com