The Edwards Companies' Co-Founders and Managing Principals - Kelly Edwards and Chris Edwards - were recently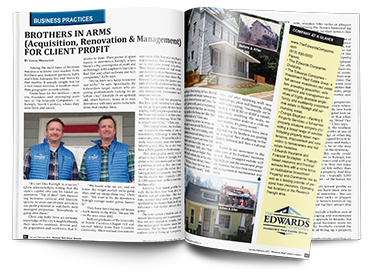 featured in the January-February 2015 edition of Personal Real Estate Investor Magazine, the nation's leading personal real estate investment publication. The magazine is available on the shelves of Barnes & Noble bookstores nationwide or can be purchased digitally by visiting the links below.
We're excited about this opportunity to share more about our dynamic business and humbly honored by this editorial from such a recognizable source within the investment real estate industry. For those who are currently in the real estate industry, thinking about investing in income-producing property, or just curious about the investment real estate market in general, Personal Real Estate Magazine is an excellent resource and we would recommend that you to take a look and consider subscribing.


CLICK HERE TO READ THE ARTICLE: Brothers In Arms -- Acquisition, Renovation & Management For Client Profit.

------------------------------------------------------------------------------------
The content below is a transcript of the article which originally appeared in the 2015 January/February issue of Personal Real Estate Magazine. Digital copies of the magazine may be purchased by visiting Magzter.com (Personal Real Estate Investor Magazine) or PersonalRealEstateInvestorMag.com.

------------------------------------------------------------------------------------
Brothers In Arms - Acquisition, Renovation & Management For Client Profit

Among the most basic of business maxims is to know your market. Twin brothers and business partners Kelly and Chris Edwards live and thrive by that mantra. It sounds simple, but for a real estate investor, it involves more than geographic considerations.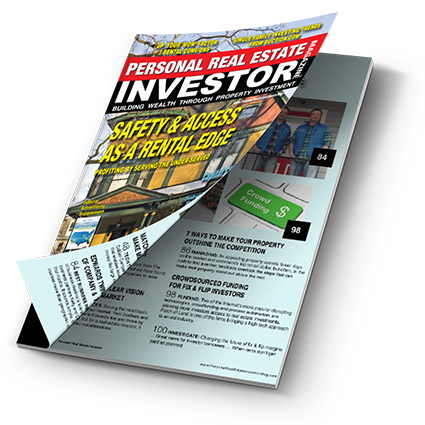 Home base for the brothers – owners, founders, and managing partners of The Edwards Companies – is Raleigh, North Carolina, where they were born and raised.
"It's not like Raleigh is a secret," Chris acknowledges, noting that the state's capital city can be found on numerous "Top 10 Best" lists measuring business, cultural and lifestyle factors. So even out-of-state investors see profit potential in well-built, well­ managed properties. "Everybody is going after them."
Chris and Kelly have an intimate knowledge of the city's neighborhoods, their specific economic drivers and the population and workforce that is drawn to them. Their pocket of opportunity is downtown Raleigh, where "there's a big convergence of youth and technology, with employers like Citrix, Red Hat and other software and tech companies," Kelly says.
"We've been very lucky to uncover our niche," he says. Specifically, the Edwardses target renters who are young professionals looking for an "urban chic" lifestyle in an updated, old, often historic, home in or near downtown with easy access to the tech firms that employ them.
"We know who we are, and we know the target market we're going after, and we merge those two," Chris says. "We want to be the downtown Raleigh vintage rental gurus, basically."
They have been buying old homes – built mostly in the 1920s, '30s and '40s – in the area since 2002.
Both are graduates of the University of North Carolina-Chapel Hill and earned MBAs from East Carolina University. Their earliest investments were made while they were employed first in banking, then working for others in real estate related industries. Their shared passion for real estate and desire to work for themselves won out, and the brothers now direct The Edwards Companies, the parent company of a family of related entities that includes investment real estate, property management, maintenance and insurance services.
"We try to find the properties that have good infrastructure where we can go in and paint, do new landscaping, really just put a good look on the house and update it so that when someone walks in they say, 'Wow! This is where I want to live,' " Chris says.
Their typical tenant, the brothers say, is someone who works at one of downtown's technology or other big companies, rides a 10-speed bicycle to work, wears skinny jeans and makes $85,000 a year. Plus, he or she may have a BMW parked in the driveway.
That demographic easily could afford to buy a home in Raleigh, but prefer to live downtown and will pay a premium in rent so they can enjoy more of their social life rather than having to tend to a property. And they like the smaller size - typically 1,000 to 1,500 square feet – of the homes the brothers offer.
Knowing their tenant profile so well, the brothers have been able to identify and add amenities – like custom, wooden bike racks or plaques spotlighting the home's historical significance – that further attract this group.
The rents include a built-in cost of outside landscaping and maintenance that not only appeals to tenants, but also makes good business sense for investors. The brothers viewed the endless cycle of fixing up a property, renting it, then having to foot the bill for renovation and repair between tenants as a waste of money and time, "so we've gotten really good at explaining to all our tenants that they are renting the outside of the house just like they rent the inside of it," Chris says.
Investors, too, notice the extras, so are eager to team up with The Edwards Companies." When we're talking with potential investors and doing a tour of our properties, we point out these 'hot buttons' and it shows that, hey, we do know our clientele, " Kelly says. "And that's why our rents are higher than pretty much anybody else in the area and our vacancies are infinitely lower."
''We'll take a house that may have been renting for $500 a month," Kelly says, and after updating with new counter tops, paint and flooring, along with landscaping, "eventually we're renting it for $1,200 or $1,300 a month, effectively doubling the rents, so when an investor looks at a cash-on­ cash number, it's pretty sweet"
So far those investors have been regional, but the brothers are gearing up to expand their marketing to the Eastern Seaboard and then a national reach.
Expect to see movement in the other arms of the brothers' business, as well. Their revamped website will highlight not just the investment property business, but also their insurance and management & maintenance segments.
- Article written by Linda Wienandt and originally published by Personal Real Estate Investor Magazine, January/February 2015 edition