Managing Principals and Co-Founders of The Edwards Companies and Edwards Capital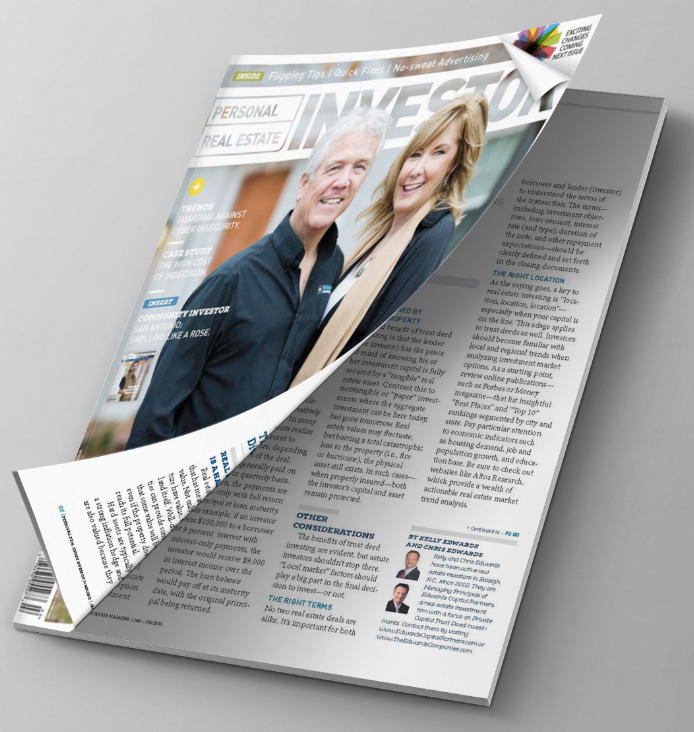 Partners, Kelly and Chris Edwards, share their real estate investing insight in the January-February 2016 issue of Personal Real Estate Investor Magazine. In the column, Investing in Private Capital Trust Deeds, the Edwards discuss the benefits of single and multifamily investments for private real estate investors. Founded in 2003, Personal Real Estate Investor Magazine is the nation's leading publication for privately owned single and multifamily real estate investments with a circulation base of 25,000+ readers. The magazine is available on the shelves of Barnes & Noble bookstores and in the business and finance section of most airports nationwide. Digital copies of the publication can be purchased online by visiting the Personal Real Estate Investor Magazine website.
Click here to read the full column.
About The Edwards Companies
Located in Raleigh, NC, The Edwards Companies, LLC and its subsidiary Edwards Capital Partners, is a full service real estate investment, management and maintenance firm. The Edwards family of Companies specializes in the acquisition, redevelopment, and management of highly desirable single and multifamily real estate in the Triangle's most sought-after locations – with a significant presence in the downtown Raleigh area. To learn more about The Edwards Companies and Raleigh investment real estate, visit www.TheEdwardsCompanies.com